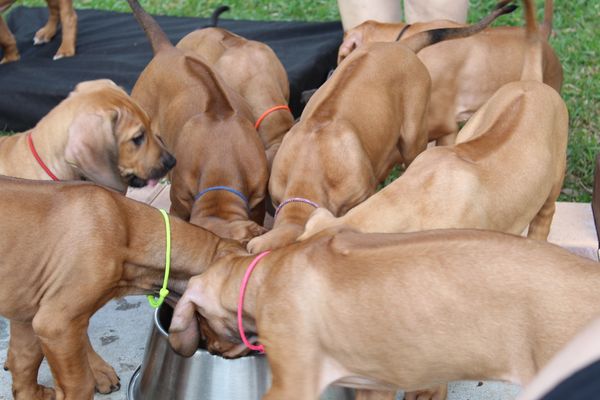 Joon & General puppies are 8 weeks old today! We knew this day would come it is a bitter sweet day.  We have grown to love each one of these puppies and their cute little personalities!  We are very excited for their knew adventures with their new forever families. Some will be show dogs, some with be therapy dogs, some will be lure coursing dogs and some will be family pet dogs.  Our wish for each one of these puppies is they live full happy, healthy lives. Please remember no harsh treatment in training. You want to train with all positive reinforcement. Socialization is very important for your puppy when its young. Please do not take him or her to dog parks where you do not know the other dogs there.  After puppies have their vaccines around 16 weeks you can bring them to puppy classes. Please look up Dr. Dodds vaccine protocol for puppies.   Before that you can socialize at home depot, pet smart not on the ground put him or her in a bed in the cart. Go where lots of people can pet them.  For training only 5 mins at a time and make it fun.
By now all our puppy homes should have their crates and a snuggly bed that can be washed. Never use their crate as a punishment. The crate is their safe haven.  If you do not catch the puppy in the act of peeing do not say anthing but if you catch them peeing or pooping in the house a firm NO take them out and say potty outside. Then when they go really praise them like crazy and bring them right back in the house.
Tomorrow each puppy will get their 1st set of vaccines and health checks. They all have been microchipped and wormed again.
Best of luck with each of your puppies and please keep us posted and remember were always here for you.  We consider you our TuckerRidge Family : )